Collections and colour cards
Our expertise in creating and producing textile collections for fashion houses and brands among the most famous and well-known ones worldwide allowed us to develop and expand this service to other industries as leather industry, furniture, upholstery, bathroom furniture and many others. Proved manual skills and manpower's knowhow, combined with cutting-edge equipment and machineries, make us leader within this industry.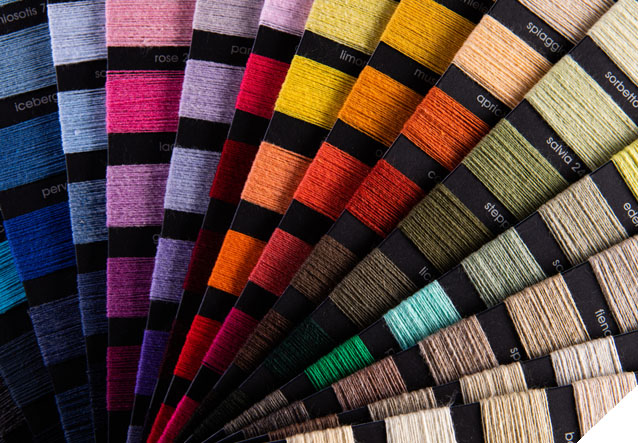 CRAFTMANSHIP, QUALITY AND ACCURACY HAVE ALWAYS REPRESENTED OUR GOALS FOR CREATING YOUR COLLECTIONS AND COLOUR CARDS.
more than thirty years of expertise
RB Creative can boast more than thirty years' experience in designing and producing customised collections and colour cards for industries of yarns, fabrics, ribbons, apparel, and furniture sectors for the most well-known fashion brands worldwide. In addition to traditional collections of fabrics, yarns, and leather items, we also create and execute collections for other materials, as ceramic, wood, PVC, and laminated plastics. Each collection is carefully studied in detail to always offer high-quality results.

We manage each phase of the project, from graphic study to printing, from binding to setting up and delivery. According to the type of supporting material, we will find out the right solution to make your collection unique and unforgettable.
…for all materials you may need and desire!